Welcome
For over half a century, the Law Firm Robotis & Associates constitutes an essential part in judicial affairs of the country.
The Law Firm was founded in 1958 by Vassilios Robotis, former mayor of Nafplion and current lawyer in that specific region.
The Law Firm has undertaken and completed successfully great cases that have concerned the nationwide and beyond. Robotis Spyros, head of the firm in Athens offices and in Nafplion branch, continues worthily the work his father began.
The firm is primarily known for its expertise and involvement in the criminal law field.
However, in recent years, the firm has expanded in other law areas, providing high quality services to its customers'concerning cases of civil, commercial, medical, administrative, fiscal law, copyright law etc interest.
All partners of the firm have extensive litigation experience and high cognitive-legal training in their expertise field.
The law firm has outsourced all over Greece and abroad.
Recent News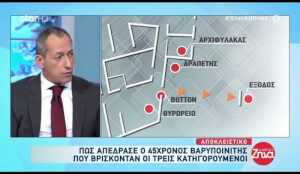 08-06-2022 13:43
Η Θέμις αναπαριστάται τυφλή, ώστε να διασφαλίζεται η αμεροληψία της. Οφείλει όμως να μην είναι και κουφή. Ας ελπίσουμε η υπόθεση αυτή να είναι η τελευταία περίπτωση κακοποίησης του πολύπαθου «τεκμηρίου αθωότητας», που, όπως και το «κράτος δικαίου», δυστυχώς τείνουν να καταντήσουν γράμμα κενό.